Our History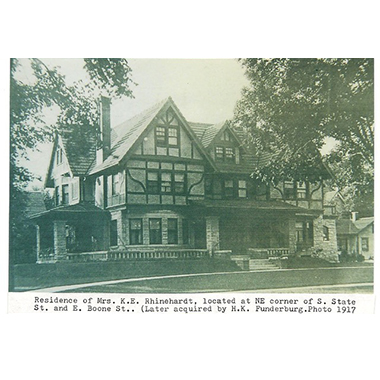 The Boone County Historical Society preserves the Funderburg House and makes it accessible for the community to use through Events, Rentals, and Tours.

The Boone County Historical Society (BCHS) and Boone County Museum of History (BCMH) announce K-B Farms, Inc.'s donation of the 113 year old "Funderburg House" mansion, along with a $1 million gift for long-term maintenance of the property. Over the coming months, The Funderburg House will undergo renovations and updates to eventually become a multipurpose historic house museum, rental facility, and community gathering space. "This is a once in a lifetime opportunity for our museum, as well as our community," says BCMH Executive Director Anna Pivoras. "We are so thankful for this generous gift from K-B Farms and the Funderburg family, and are looking forward to a bright future for the historic residence."
The 1906, 8,000 square ft, craftsman-style mansion was built by Belvidere native Katherine Rhinehart, daughter of Civil War General Allen C. Fuller. In the late 1930s, the property was purchased by Hugh K. and Alice Funderburg, owners of the Keene-Belvidere Canning Company, now known as K-B Farms. The property has been under their ownership ever since, and was transferred to the Historical Society in December. The donation of the iconic Belvidere home at 605 N. State St., along with the generous monetary donation, will be the largest single donation in Boone County Historical Society's 83 year history. Rob Funderburg, Chairman of K-B Farms says "The board of K-B Farms is excited by the opportunity to convert our grandparent's historic home from a private residence into a public asset. Since the time the house was built it has been enjoyed by two families, and now it will be enjoyed by many other families in the future." "Through the efforts of many, an iconic Belvidere property will become a community asset and destination.
The Boone County Historical Society has existed since the mid 1930s, and has operated a museum (Boone County Museum of History, 314 S. State St. Belvidere, IL.) for over 50 years. The mission of the Boone County Historical Society is to stimulate interest in Boone County history through education, research, collection, and preservation of artifacts and archival materials.
K-B Farms, Inc. K-B Farms is a third generation family business whose roots go back to the Keene-Belvidere Canning Company which packed peas and corn from the early 1900s until it was sold in 1944. Since then the company focused on grain and dairy farming and later engaged in residential, commercial and industrial real estate investment. Throughout its history, K-B Farms has worked alongside other organizations to improve the quality of life in Boone County for all of its citizens.
---